Capitol Theatre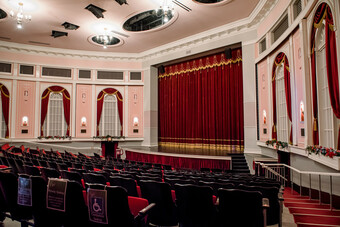 Capacity:  243 seats plus 4 wheelchair locations.
This is a beautiful re-creation of Edmonton's original Capitol Theatre, circa 1929. The Capitol Theatre's restoration has been captured with historical authenticity while incorporating modern construction methods and audio-visual packages. This venue is suitable for seminars, workshops, recitals, concerts, corporate gatherings, plays, wedding ceremonies, and fashion shows.
Clerks' Quarters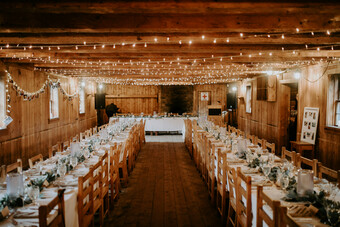 Capacity: 90 guests
Clerks'  Quarters is an excellent venue for a casual dinner steeped in history. Natural pine tables complement the log construction floor. Clerks' Quarters is an atmospheric location for wedding receptions, corporate dinners, harvest & holiday events, and just about any function with a woodsy cabin theme.
Note: This venue is not wheelchair accessible.
Egge's Barn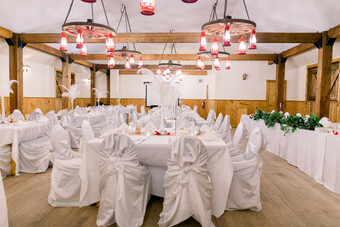 Capacity: 100 guests
Egge's Barn is an excellent venue for a casual dinner and dance with a western flavour.  Natural pine tables complement the hardwood floor, and the Dutch windows open to a picturesque view of Fort Edmonton Park. Built as a reproduction of the 1903 barn, Egge's Barn was unusual in its day in that it was a monstrous building, accommodating 20-30 teams of horses. The second floor of Egge's Barn is a great location for wedding parties, dances, harvest events, and just about any function with a country or western theme.
Note: This venue is on the second level and is not wheelchair accessible.
Midway Exhibits Building
Capacity: 48 people
A welcoming room wrapped in warm wood complemented by images of Edmonton's past.
Johnson's Cafe in the Hotel Selkirk
Capacity: 90 guests
The Johnson's Cafe in the  Hotel Selkirk is a quaint venue complete with beautiful wood floors and cozy decor. It's the perfect venue for your next meeting, corporate retreat, wedding, Christmas party, anniversary, board meeting, breakfast meeting or any other special occasion. 
Kelly's Saloon
Capacity: 48 guests
Kelly's Saloon at Fort Edmonton Park is a reproduction of that original that stood at Jasper Avenue and 98 St, a site now occupied by Canada Place. This is a fun venue where guests can kick up their heels and enjoy the brass-railed long bar and the 1900s player piano. The room behind the bar has ample space for mingling and contains three pool tables and a dartboard. This venue is ideal for year-end parties, retirement and anniversary parties, stags and stagettes, and milestone birthday parties. 
Ukrainian Bookstore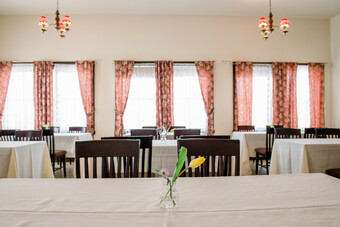 Capacity: 48 guests
The Ukrainian Bookstore building is a reconstruction of the original site, which still stands on the SW corner of 96 Street and 102A Avenue. Located at the intersection of Fort Edmonton Park's 1920 and 1905 streets, the second floor of the Ukrainian Book Store is a quaint, well lit, functional meeting and dining room space with warm wood colours and windows overlooking the park.
Note: This venue is located on the second floor and is not wheelchair accessible.
Blatchford Field Air Hangar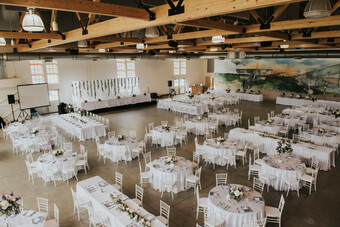 Capacity: 200-600 people depending on configuration
This historic hangar takes you back to Edmonton's early and exciting aviation history. The Blatchford Hangar is a reconstruction of the first civic hangar on the site of the first municipal air harbour in Canada. The original hangar was demolished in 1979.
Open the large sliding doors to reveal a generous multi-purpose space that is ideal for conferences, fundraisers, social gatherings and weddings. The facility includes a coat room, a built-in audio system, risers and a mezzanine. The Hangar is perfect for large gatherings and offers outdoor green space in conjunction with the rental.
The Blatchford Field Air Hangar is also the home of our state-of-the-art catering kitchen. The 4,236 square foot kitchen has the capacity to serve 5,000 guests for any given event and is the primary kitchen used to serve public and private events in the Park.