About Fort Edmonton Park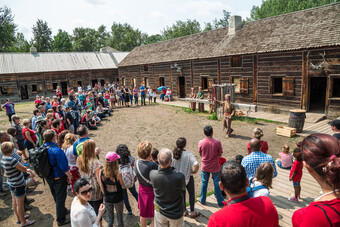 Fort Edmonton Park is nestled on 158 acres of wooded parkland along Edmonton's River Valley and began as a Canada Centennial reconstruction project in 1967. Thanks to the dedicated efforts of the Rotary Club of Edmonton and the Fort Edmonton Foundation, the experience continues to expand upon Edmonton's story.
Fort Edmonton Park is a leader in cultural tourism, offering local, regional, and international guests a truly interactive and memorable experience.
The expansive, multi-attraction space provides a community gathering place for guests, whether it be a park visit, a private function, or a special event. Every visit is a new adventure filled with immersive and unique experiences.
Fort Edmonton Park is owned by the City of Edmonton and operated by Fort Edmonton Management Company (FEMCo).