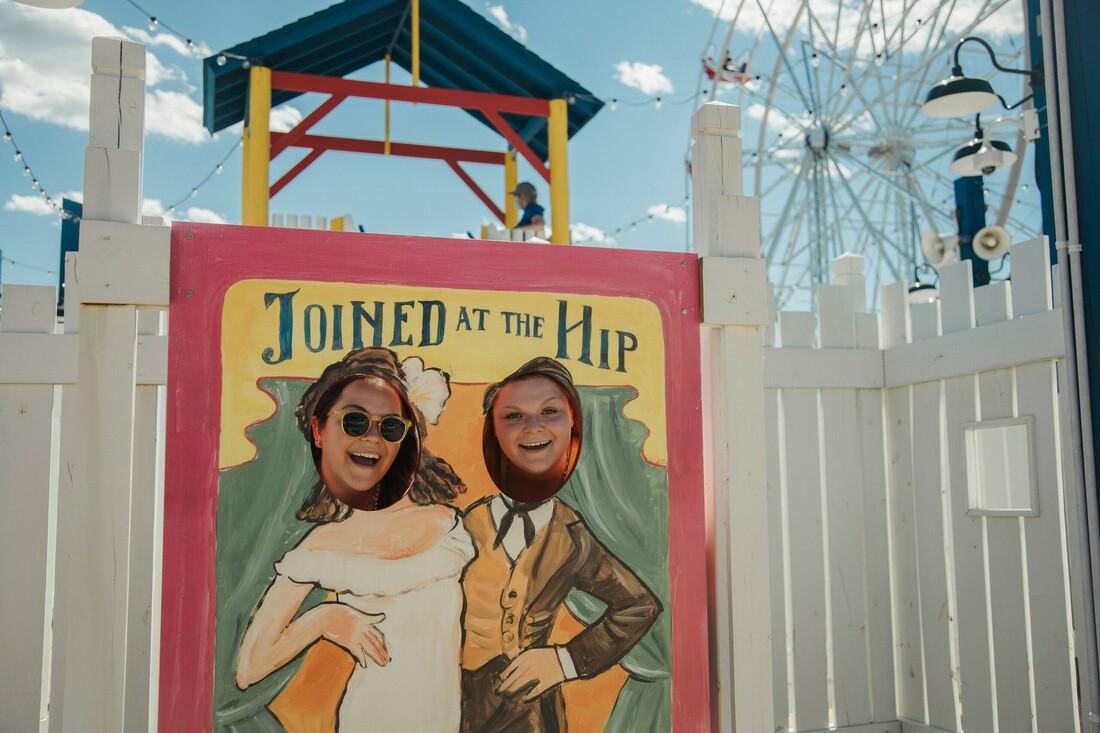 Your Official Guide to Fort Edmonton Park
Fort Edmonton Park is the largest living history museum in Canada, offering visitors authentic, immersive, and engaging experiences. We're breaking down some helpful tips to ensure you make the most out of your next visit! 
Planning your visit:
There is plenty to do and see at Fort Edmonton Park! We recommend planning to come for the whole day. Travel throughout the eras and experience new stories and activities every week! Enhance your summer with a Summer Pass, which includes unlimited admission for the General Admission Season on opening days. See hours here.
Admission Tickets are available online or at the gate. Save time and avoid lines by booking online! Admission includes access to midway rides & games, train, and streetcar. We accept cash, debit & credit. 
Hot tip:  Download our free APP to get access to immersive tours and stay up-to-date on Park experiences. 
How to get here:
There are endless ways to get to Fort Edmonton Park! Please consider alternate modes of transportation when you plan your visit. Carpooling, Uber, taxi, bicycle, or on foot through the River Valley are all great options. Bike lock-up areas are available in the Front Entry Plaza or near our administration building. On-Demand service is available to Fort Edmonton Park 7 days a week. For more info, Download the Edmonton On Demand Transit app.  If you are driving, please note that there is limited parking. Our parking attendants will direct you. 
Hot Tip: Parking is free! Arrive early to secure a spot. 
What to Bring:
Come prepared for a fun day at Fort Edmonton Park! We highly recommend checking the weather forecast before you arrive. Remember, we're open rain or shine. Pack your essentials, this may include a water bottle, sunscreen, hat, sunglasses, umbrella, raincoat, etc. There is plenty of ground to cover with over 158 acres to explore! Wearing good walking footwear or rain boots is a game changer. Don't forget to hitch a ride on the Streetcar or Train for a scenic trip around the Park. 
Hungry? Eat at one of our many food locations on-site or bring your own lunch and find a scenic picnic spot. See our map for picnic table locations.
Hot Tip: Check the Fort Edmonton Park Twitter, Instagram Stories, or Facebook Stories for updates on any potential ride or amenity closures due to weather or maintenance. 
Be a Champion for Fort Edmonton Park:
We want everyone at Fort Edmonton Park to feel welcome and to have an immersive and memorable experience. Help us to make this a safe and positive experience for all guests, staff, volunteers, and guests by following these tips:
There are many beautiful and interesting things on site that you might want to touch: we agree and have created many fun hands-on opportunities for you! Since many things are very old and fragile, before you touch an object or a person, make sure to ask first! And remember, items or areas behind ropes are there to be protected. 
Remember to treat public places with respect. We ask that you avoid littering, vandalism, and climbing on fences, sculptures, or displays in all indoor and outdoor spaces. 
We encourage visitors to interact with our team. When doing so, please respect the boundaries of others, this includes not touching interpreters, volunteers, staff, and other guests.
Our interpreters love to stay in character, but are welcome to break out of character based on the best way to engage in conversation with you!  
We ask that you kindly interact with anyone on-site. We do not tolerate sexism or racism. Disrespectful behavior, swearing or derogatory comments will not be tolerated. 
Ask our team to assist you with wheelchair accessibility on the train and carousel. Enjoy a ride at the Park! 
Filming and documenting your visit to the Park is encouraged but please be mindful of our staff's time and space. You are always welcome to ask permission to take photos or videos. Remember to tag #FortEdmontonPark and @FortEdmontonPark!
We ask that all guests abide by our policies and do not dress in costumes or regalia as it can cause confusion for our guests who may think that you are a staff member. For more information visit our FAQs here. 
Hot tip: Curious about how to start conversations with interpreters? Chat with them like you would with a good friend. Here are some conversation starters:
Ask someone how they are doing or what year it is: "Good morning, how are you?" "What year is it?" or "What project are you working on today?"
Start a conversation with a simple: "Good day" or "Tansi" instead of "Hello."
As a simple question: "What would my life look like if I lived in the past" or "Can you please tell me more about this building or era?"
If you have feedback for us, we always invite you to reach out to our staff or contact info@fortedmontonpark.ca.
We want everyone who visits and works at Fort Edmonton Park to feel welcome and have a great experience. We look forward to your next visit. See you at #FortEdmontonPark!