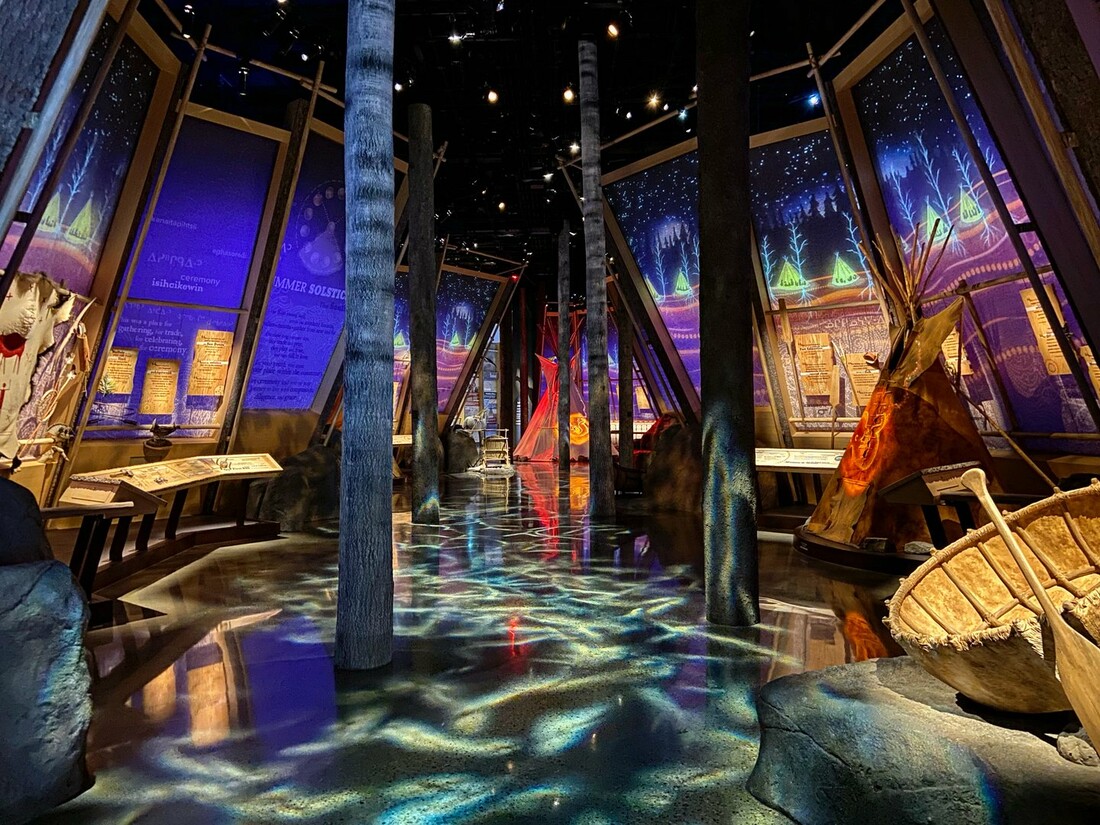 Discover the Indigenous Peoples Experience this Winter
This winter, Fort Edmonton Park invites you to gather and explore life through the diversity of First Nations and Métis peoples at the Indigenous Peoples Experience. The award-winning exhibit is open Saturdays and Sundays from 12 pm - 4 pm, from January 14 through March 26, 2023.
Deep conversations with over fifty Indigenous Elders, historians, educators, and community members informed the content shared in the exhibit. The stories and artwork come directly from Indigenous perspectives gathered through engagement with over forty local Indigenous nations, historical documents, and research. Music was written and composed by local, award-winning, Indigenous musicians and performers through an artist residency. Local Indigenous interpreters greet guests and impart their own personal stories and history, adding unique depth to the experience. This shared knowledge does not just exist in the past, it is here today.
The exhibit is a wonderful opportunity to listen, learn and engage with the community. Take your time walking through each phase and please feel free to chat with our friendly interrupters. 
How to Experience the Indigenous Peoples Experience:
Tickets must be purchased online in advance. Tickets are not available at the Guard House. 
When you drive on-site you will see signage guiding you down the service road to your Right.
Please, do not attempt to park in the main parking lot and walk through the Front Entry Plaza. This gate will be inaccessible. Fort Edmonton Park is currently closed for the season.
Parking is available at Lot K beside Indigenous Peoples Experience, please drive through the service road. Lot K is located next to the 1846 Fort. Once you have parked, follow the signage and walk to the exhibit. We recommend wearing sturdy footwear as it's a short 2-minute walk on the winter trails. Don't forget to bring a coat.
The exhibit is indoors, but you can wander around the outdoor trails to see the arbours, sculptures, and snow-covered gardens. 
Don't forget to stop by the I.A.M Collective booth. The Indigenous arts collective includes more than seventy First Nations, Métis and Inuit artists who promote authenticity over appropriation by providing a place for market goers to purchase authentic, local Indigenous art.
We welcome Ubers, taxis, DATs, etc. to go down the service road to drop off guests at the Indigenous Peoples Experience. Do not get dropped off at the front gates as you are not able to walk on the service road to get to the exhibit. The service road is not accessible via bus. 
Additionally, Summer Passes are not valid for this off-season experience. However, each ticket holder for the Indigenous Peoples Experience Admission will receive one free general admission ticket of equal or lesser value for the 2023 summer season.
Leisure Access Passes are only accepted during the General Admission Summer Season (May-September) and are not accepted for off-season offerings. 
Public washrooms and water refill stations are available at the venue. 
Read our FAQ here. 
Although the Park is closed for the season, we want to ensure the community can access this incredibly important and meaningful experience. 
Book your visit today.
Questions? Please connect with our customer service at info@fortedmontonpark.ca for more information.