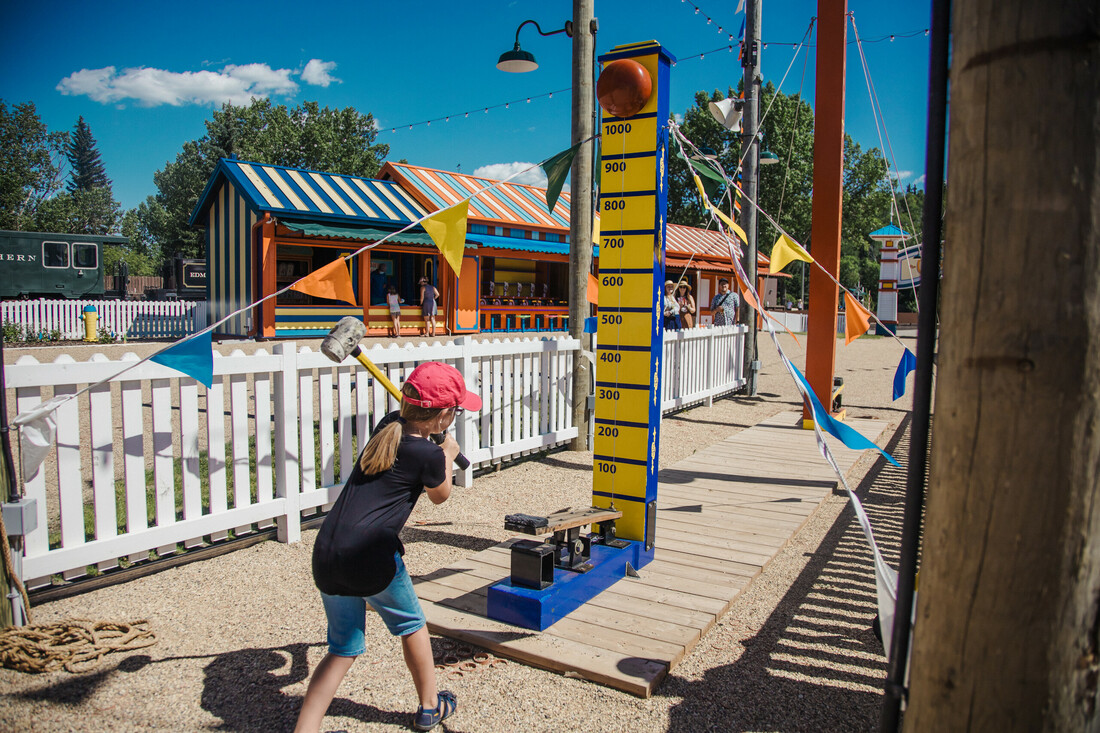 Rediscover Endless Adventure at Fort Edmonton Park
There are few parks so recognizable and classic that visiting them isn't just tradition; it's a rite of passage. Fort Edmonton Park fits this description perfectly. Here at Expedia Canada, we love when families travel together, which is why we've partnered with Fort Edmonton Park to present you the top undeniable reasons to bring your family to Fort Edmonton Park this year.
Discover Stories that Matter 
Walk your family through the new Indigenours Peoples Experience. Gather and explore life through the diversity of First Nations' and Métis peoples' histories, cultures, experiences, and perspectives, local to Indigenous life in the Beaver Hills, or Edmonton region. Discover stories, audio and visuals, music, artwork, and text from local Indigenous perspectives and voices, gathered through engagement with local Indigenous communities, historical documents, and research.
Midway Magic
You love rides, the kids love rides, so why not enjoy some at Fort Edmonton Park? There's plenty to keep you amused at the Park's newly expanded Johnny J. Jones Exposition! Test your shooting skills in the Shooting Gallery, soar to the heavens on a 1920s-style Ferris wheel, and fill up on classic midway fare at our new Food Truck! Don't forget to stop into the Treasure Trove in Games Alley for treats, gifts and more!
Ride in Style!  
Meet our adorable hard-working ponies who are pleased to take little visitors who want to experience the pioneer west for a ride at the Ottewell homestead farmyard.  Please note, the well-being of our ponies is carefully monitored by our Pony Handlers and unscheduled breaks may be called from time to time.
Hop on the 1919 Baldwin Steam engine and train that whisks you from the Park's train station at the front of the Park to the train platform at the back near the 1846 Fort and the new Indigenous Peoples Experience. Hitch a ride on the rails to 1905 and 1920 streets on streetcars that are maintained by our valued volunteers of the Edmonton Radial Railway Society. Both a favourite of the young and old.
Step Back in Time  
Chat with interpreters in each Era and learn more about the history of each site through stories, demonstrations and discussions. The park is divided into four different eras, and all are worth a lengthy visit. Learn about bartering and trading in the 1846 Fur Trading Era. Visit barn animals at Ottewell Farm and take a horse-drawn carriage in the 1885 Settlement Era. In the 1905 Municipal Era, tour the home of Alberta's first Premier, Alexander Rutherford. Remember to pick out an ice cream cone at the confectionery before catching a show at the historic Capitol Theatre in the 1920 Metropolitan Era section.
Families have been coming to Fort Edmonton Park for generations. Start a family tradition of your own with a visit this year.