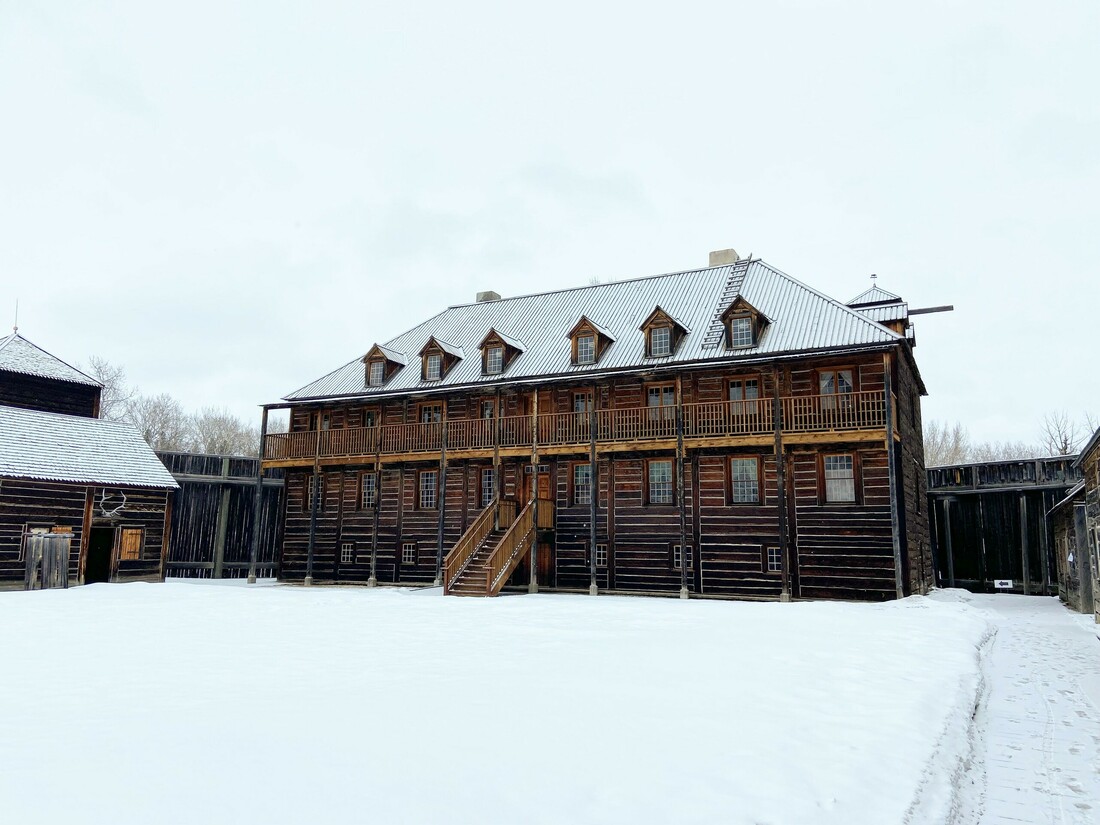 Louise Umphreville, a Matriarch of Fort Edmonton
Louise Umphreville, born between 1783 and 1788 near present-day Frenchman's Butte on the North Saskatchewan River, was a Métis matriarch who spent most of her life in Fort Edmonton. Louise and her daughters were crucial to the economic success of the Hudson's Bay Company. As a prominent Métis figure and leader of Fort Edmonton, Louise is undoubtedly a person worthy of notice on International Women's Day. 
The daughter of an unnamed Cree woman and fur trader Edward Umphreville, Louise was a prominent figure in the Métis history of Rupert's Land and Fort Edmonton. Although First Nations and Métis women were the foundation of the fur trade, Louise's story isn't well documented – as was typical for Indigenous women at the time. She didn't keep a journal or write any letters – Louise spoke Cree, possibly a little French, and she couldn't write. Nevertheless, from what we gather, Louise was a striking figure during a time of significant change.
Around 1810, Louise rescued fur trader John Rowand and nursed him back to health after he broke his leg during a bison hunt. Shortly after, Louise married John in a country marriage, also called marriage à la façon du pays, which means, according to the custom of the country. This type of marriage was a common-law arrangement that mixed Indigenous and European traditions without the church's approval.
John Rowand, Hudson's Bay Company factor. Image courtesy of Glenbow Museum, Calgary, Alberta.
Louise, independently wealthy before John arrived at Fort Edmonton, gifted him a herd of horses as a dowry. With the support of Louise, John became the Chief Factor – the head trader – of Fort Edmonton in 1826. Louise was the head of the family household. The couple had at least five children and remained together until she died on July 27, 1849. Even though they had the chance, the couple never married in a traditional Christian ceremony during their lifetime. 
Country marriages gave birth to the beautiful and unique Métis culture and way of life we experience today. For example, Louise's Métis children were taught how to weave flannel, dress deerskins, make moccasins, teach Cree, and make pemmican. In fact, Louise's daughter Margaret McKay won prizes for her woven white woolen flannel, deerskin, and men's moccasins.
First Nations and Métis women, including Louise and her daughters, produced moccasins for fur brigades across Rupert's Land. A prominent fur trader, Alexander Ross, said that the Métis women of Fort Edmonton were "always working – never idle." Alexander gave Louise's family great praise, and we can assume that settler fur traders would have lost a lot more toes to frostbite without the women of the Umphreville-Rowand family.
Mrs. Margaret Rowand-McKay, Louise's daughter. Image courtesy of the Archives of Manitoba, C1875, N2144
Louise presumably took her duties as a matriarch quite seriously. Her daughters were never sent away for European-style schooling; they spent most of their lives at home in Fort Edmonton, where they lived traditionally. Louise's daughters most likely saw their mother as a role model and instructor in everything they accomplished.
Although we may never know the intricate details of Louise's life as she saw it, we know that her family prospered even after the fur trade died down. Louise and her daughters played a large part in the profound social changes sweeping Rupert's Land at the time.
There is no definite answer to where Louise Umphreville was buried, though family tradition says Louise was buried under what is now Ezio Faraone Park in Edmonton. John Rowand was buried in what is now Montréal. Most of the Umphreville-Rowand children were buried in what is now Manitoba and Québec.
For International Women's Day, Fort Edmonton Park recognizes the country-wives who helped build the country now known as Canada with their bare hands. Without the efforts of women like Louise Umphreville and her daughters, the fur trade would have never been successful.