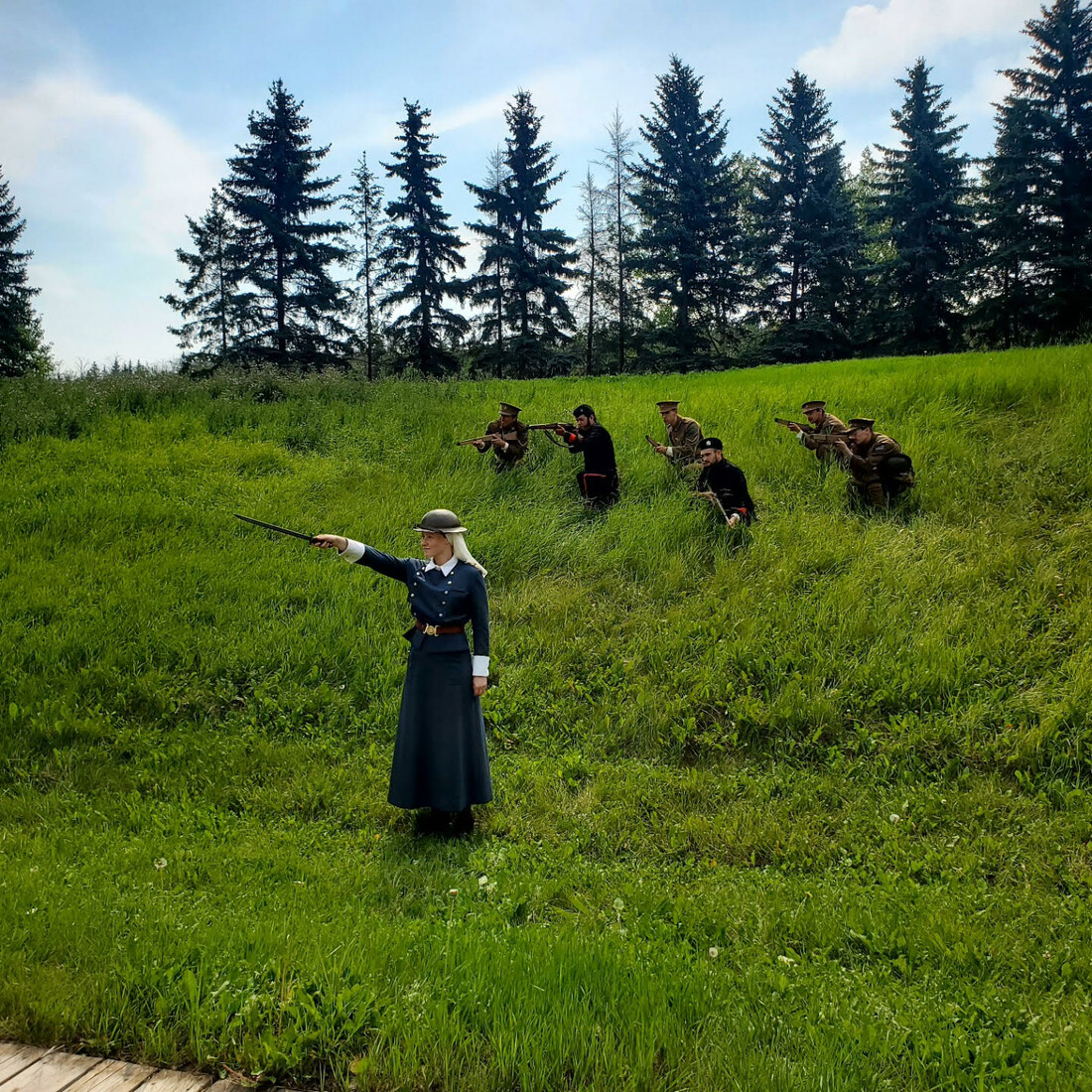 Lest We Forget
Sharing Stories that Matter
This Remembrance Day, we remember those who bravely sacrificed and served our country. From the Memorial Gardens to local war heroes, Fort Edmonton Park is a unique place to experience and tell stories that matter. 
When visiting Fort Edmonton Park, guests can enjoy The Memorial Garden on the corner of 1920 Street and 1905 Street. The garden's fountain, erected by the Royal Canadian Legion, serves as a monument to those who lost their lives in the First World War. The Legion, originally known as the Great War Veterans' Association, was formed to look after the interests of veterans of that conflict. The Association later changed its name to the Royal Canadian Legion. While no such garden existed in Edmonton, the garden at Fort Edmonton Park is utilized as a transition zone between two eras, allowing visitors to pause and reflect on the sacrifices made during the Great War. 
During the summer general admission season, you might often spot our returning veteran and nursing sisters sharing stories of the war. We invite you to talk with our interpreters for more inspiring stories.
Visitors can also learn more about our brave War Heroes in the Métis Cabin at the Indigenous Peoples Experience. Approximately 12 000 Indigenous and Métis men and women served in Canada's war efforts during WW1, WW2 and the Korean War. Many of these brave veterans returned from war with hopes for a better future. Sadly, the sacrifices made on the battlefield could not overcome the systemic racism entrenched within both the Indian Act and Canadian Society.  
Visiting the Indigenous People Experience, you can learn about Henry Norwest, Bertha Clark-Jones, Charles 'Checker' Tomkins and more brave Indigenous and Métis Veterans. The exhibit proudly displays the spirit of resilience and stories of heroes who have inspired generations to continue to fight for improvements and preserve and honor their culture and way of life. 
Alex Decoteau in his police uniform, 1911. (City of Edmonton Archives, EA-302-82)
A great story worth sharing is that of Alex Decoteau. He was hired by the Edmonton Police in 1911 and served as Canada's first Indigenous police officer. In 1912 he competed in the Olympics in Stockholm where he performed admirably. After the First World War broke out, he enlisted in the Canadian Expeditionary Force in April of 1916. While in the military he continued to run competitively. At an event in Salisbury, King George V awarded Decoteau his personal gold pocket watch as congratulations for winning a 5-mile (8.0 km) race. Tragically, Decoteau was killed by a German sniper on the morning of October 30, 1917, during the Second Battle of Passchendaele. In 2014, the City of Edmonton named a park for Decoteau in recognition of his amazing life and his passion for service to the community.
Today we honor all those who fought for our freedoms and continue to do so. We invite you to pause, reflect and recognize the contributions so many have made in service to Canada.
Looking for more resources?
Bush Pilots & Barnstormers – Wilfrid 'Wop' May
14 Facts You May Not Know About Indigenous Veterans
Indigenous War Heroes - More Than A Few Good Men
Alex Decoteau Park - City of Edmonton