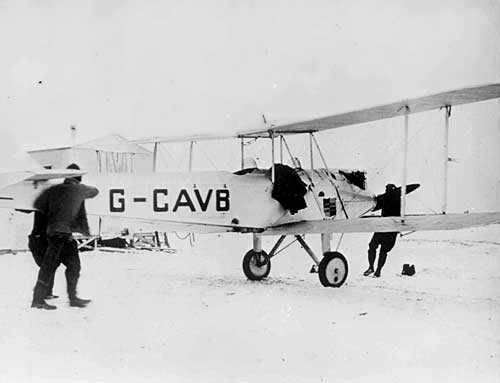 Bush Pilots & Barnstormers – Wilfrid 'Wop' May
When discussing the history of early Edmonton aviation – in particular the individual stories of men and women who navigated that heavenly aether as Bush Pilots and Barnstormers, there's one local legend who deserves his own write-up.
Wilfrid ˜Wop' May – An Edmonton Hero
Wilfrid May was an Edmontonian pilot famous for his pioneering of airplanes in Alberta. May gained his fame when he became involved in the last dogfight of the famous Red Baron during the First World War. He would go on to rack up an impressive amount of kills as one of Canada's many aces.
After the war, he began several businesses centered on airplanes, some more successful than others. Along with Cy Becker and Vic Horner he started Commercial Airways in 1928, operating out of Blatchford Field, Edmonton's new "air harbour." They purchased a new open-cockpit Avro Avian from England, which could be equipped with wheels, skis, or pontoons, and had a top speed of 100 miles per hour. That same year he helped prove the practical peacetime worth of airplanes and Edmonton's position as 'Gateway to the North' when he and partner Vic Horner agreed to fly the diphtheria vaccine to remote Ft.Vermillion to prevent an outbreak of the disease.
They took off from Edmonton in their open cockpit Avian on January 2nd  1929  with the temperature at 20 degrees below zero Fahrenheit. Battling strong headwinds and limited visibility due to snow, they flew to McLennan, then Peace River, and finally to FortVermilion where they delivered the serum. During the flight, they had to deal with a fire in the cockpit, and on the return trip, they encountered engine troubles because they had to use automobile gasoline for fuel.  They did make it back, however, landing in Blatchford Field to a waiting crowd of 10,000 people!
The Mayfield neighbourhood in Edmonton is named after this pioneer, who is the subject of murals and Mercy Flight re-enactments in 1979, 2004, and 2009. At Fort Edmonton Park you can see a replica of the Avro Avian flown by May and Horner. It is parked in a reconstruction of McNeill's Hangar, the first hangar built on the Hagman Estate, which in 1926 was renamed Blatchford Field. From time to time, park interpreters present a skit with Wop May being interviewed about the dramatic "mercy flight".
Don't miss a viewing of Blind Ambition: The Wop May Story at the Capitol Theatre on 1920 Street during the summer. The 20-minute film is now screening during the Summer Admission Season.
Replica of the Avro Avian flown by Wop May. This plane is on display in its own hangar outside of the main Blatchford Hangar on 1920 Street at Fort Edmonton Park. 
Bibliography:
"Mercy flight from Edmonton to FortVermilion – the open cockpit Avian airplane that Wop May and Vic Horner flew to Fort Vermilion from Edmonton." January 2, 1928. Provincial Archives of Alberta, Alberta Department of Health fonds, photo number A11795.
The Chronicles of W. R. (Wop) May at www.wopmay.com
Additional Resources:
Where can I see the various artifacts of "Wop" May?
A Synopsis of W.R. (Wop) May's Life