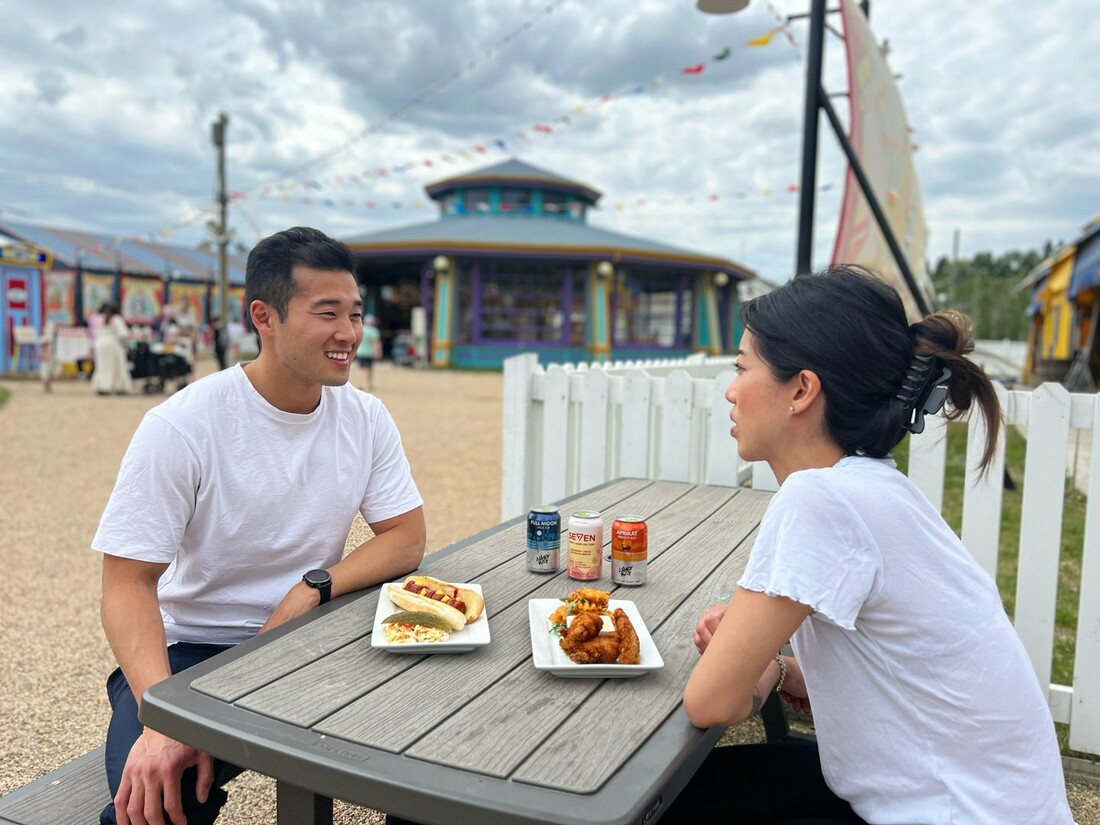 Your Official Food Guide to Fort Edmonton Park
Did you know Fort Edmonton Park is an Edmonton foodie hotspot? Whether you're looking for a sweet treat, cold beer, or a gourmet lunch - there is something to satisfy everyone's cravings. You just need to know where to go! All locations are closed Mondays and Tuesdays while the park is also closed. 
Front Entry Café
Open 9:00 am – 6:00 pm 

Whether you're heading in or out of the Park, you won't want to miss a stop at the Front Entry Café. Enjoy light food, specialty coffees, and beverages.
Midway Delights Food Truck
Open 10:30 am - 4:00 pm
The Midway Delights Food Truck serves up gourmet food truck fare.
Bill's Confectionery 
Open 11:00 am - 5:00 pm
Located on 1920 Street, Bill's Confectionery is a popular stop to cool down and enjoy a sweet treat or cool beverage.
Johnson's Cafe 
Open 11:00 am – 3:00 pm Weekdays
Open 10:00 am – 3:00 pm Weekends

Tucked inside Hotel Selkirk on 1920 Street, Johnson's Cafe is a brunch and lunch hotspot with a full menu.
Mahogany Bar
Open 11:00 am - 5:00 pm
Don't forget to pop in for a visit at the iconic Mahogany Bar for a signature drink.
Masonic Hall
Open 11:00 am - 5:00 pm
Standing tall on 1905 Street, Masonic Hall serves up gourmet hamburgers, hot dogs, wraps, and salads.
Kelly's Saloon
Open 11:00 am - 4:30 pm
Travelling back through time, you may find yourself on 1885 Street at Kelly's Saloon. Enjoy a crisp beer and nibble on chocolate and popcorn treats.
Candy Shops 
Looking for your candy fix? Visit the Treasure Trove, Front Entry Gift Shop, or McDougall's General Store at Fort Edmonton Park! Grab your childhood favourites from sponge toffee, old-fashioned candy sticks, and more. 
Download our Map here to navigate the park and locate each site and additional picnic tables.
Don't forget to share your Fort Edmonton Park Foodie experience! Tag @FortEdmontonPark #FortEdmontonPark and #YEGFood.