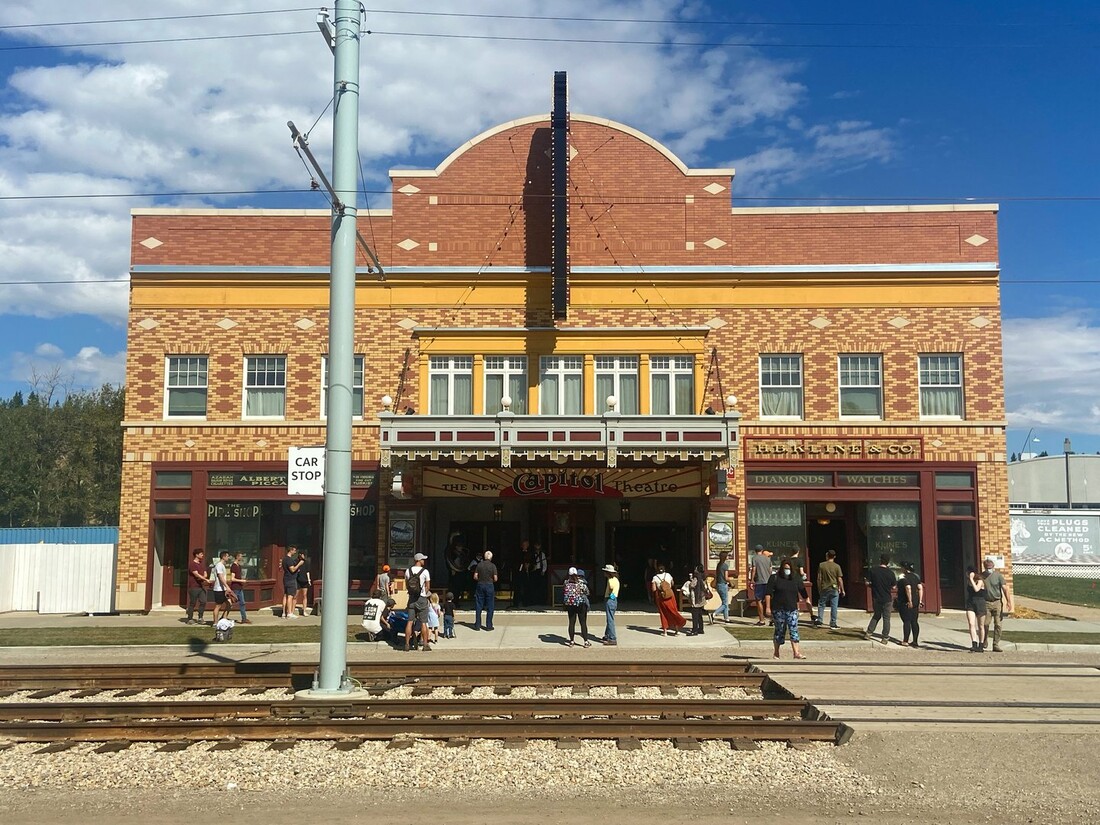 Catch a film at the Capitol Theatre
Capitol Theatre Film Playlist 
Fort Edmonton Park is proud to present the Telus 'Storyhive' Series, a collection of short documentaries that highlight over 120 years of Edmonton and Alberta's uniquely rich and intricately diverse heritage. Catch a short film at the historic Capitol Theatre on 1920 Street during your visit to Fort Edmonton Park this summer. 
Secret Edmonton: Canada's First Mosque
"The Al Rashid Mosque is the first Mosque in Canada, and it exists because of the perseverance of some very strong women. Their efforts brought together many faiths to build and preserve not just a building, but a community."
It is a little-known fact that a few Muslim families had already been living in Canada as early as the mid-1800s, and were included in the first census of the Dominion of Canada (documented as "Mohamadens"), when it was conducted in 1871. But it wasn't until 1938 when Edmonton's Muslim community established Canada's very first purposefully built Mosque - while in the middle of the Great Depression of the 1930s, and roughly nine months before Canada entered World War II. 
Secret Edmonton: Winnifred Stewart
"It began as a fight for her son's right to an education, but what Winnifred Stewart accomplished for persons with Down Syndrome and developmental disabilities is a worldwide legacy that Edmonton can be proud of."
A tireless advocate for the rights and dignity of children with exceptional and severe challenges, Winnifred Stewart stands out as a beacon of compassion among many notable figures in Alberta's history. The Winnifred Stewart Association for the Mentally Handicapped, founded in 1953, was the first school of its kind in all of Canada. Through her campaigns and advocacy for the neurological wellbeing of children, Winnifred Stewart set standards for the education and healthcare of neurodivergent children that the rest of Canada eventually came to follow.
Secret Alberta: The Former Life of Amber Valley
"Winner of the 2018 Canadian Screen Award for Excellence in Digital Storytelling; About 100 km North of Edmonton is Amber Valley, one of the first all-Black settlements in Canada. Arriving in 1909, the pioneers of this community battled the elements and racism to not only survive but thrive."
Soon after the Emancipation Proclamation was declared in America, in 1863, Black pioneers looking for new opportunities began to make their way to the heartland of Alberta by the late 1800s. The descendants of Amber Valley and other proudly Black communities near and around Edmonton are a testament to their sheer determination to strive and persevere throughout the most arduous circumstances and bitter social austerities. Nonetheless, not only did Amber Valley and its community members make countless achievements in multiple areas including (but not limited to): farming, ranching, trading, and trapping, they continue to set high standards for social equity among Edmonton's society to this very day.
Secret Alberta: Prohibition
"During Alberta's prohibition years, the Crowsnest Pass was a hotbed for bootlegging and related criminal activity, including the infamous case of Emilio Picariello and the murder of Constable Lawson."
Forget what you think you know about Alberta and its placid towns, and imagine a place engulfed by prairies at the edge of the Rocky Mountains to the west and an expanse of perpetual winter to the north. Edmonton is slowly shaping up to be an industrious society but making ends meet proves to be a constant challenge for many during this time. People have a thirst for "recreational beverages" and anyone willing to take the risk to provide neighbors with something to drink will either reap the rewards or end up in prison or a pine box.
Punjabi Pioneers of Alberta
"Enigmatic Host Sunny Sidhu explores the little-known history of Punjabi Pioneers like Sohan Singh Bhullar and Harnam Singh Hari, both of which settled in Alberta, Canada in the early 1900s."
Although the province of Punjab and Alberta are on almost completely opposite ends of the globe, Punjabi immigrants were naturally inclined to embrace the ranching and farming culture of their newfound home. For countless centuries, people of Punjabi heritage (Sikh, Hindu, and Muslim alike) have been renowned for their farming and agricultural expertise - as well as being a fiercely loyal community committed to the betterment and protection of their society. These achievements and values are easily demonstrated by the fact that today, Punjabi residents of Alberta and most of its major cities are found in all levels of leadership and support in our society.
*Special Feature* Blind Ambition: The Wop May Story
Fort Edmonton Park is proud to present, 'Blind Ambition: The Wop May Story.' Wop (Wilfred) May was a legendary World War I fighter pilot and the pride of Edmonton for more than the past 100 years (and counting). Wop May's most famous exploits include a harrowing shootout with Germany's infamous Red Baron. He air-delivered diphtheria vaccinations, in sub-arctic conditions (in an open-air cockpit), to the town of Vermilion during a severe outbreak. He trained and mentored countless pilots personally, including women and minorities, during a time when the opportunity to become a commercial pilot was next to impossible for women and minorities. He helped invent search and rescue in WW2. Overall Wop May made countless achievements, innovations, and improvements in the field of aviation for the world to emulate. Learn more about this unforgettable Edmonton hero! 
Capitol Theatre Notice
The Capitol Theatre is located on 1920 Street at Fort Edmonton Park. Shows run regularly during the General Admission Season on Wednesday - Sunday from 1:00 pm to 4:00 pm. Films are included with your admission. Please note, due to private events, Capitol Theatre shows may occasionally not be playing with no notice. We apologize for any inconvenience.
Tickets are now available! See you at the theatre. 
Resources
Since 2013, STORYHIVE has funded productions and supported emerging filmmakers with mentorship and support from the National Screen Institute, bringing hundreds of films to life online and around the world. Learn more.