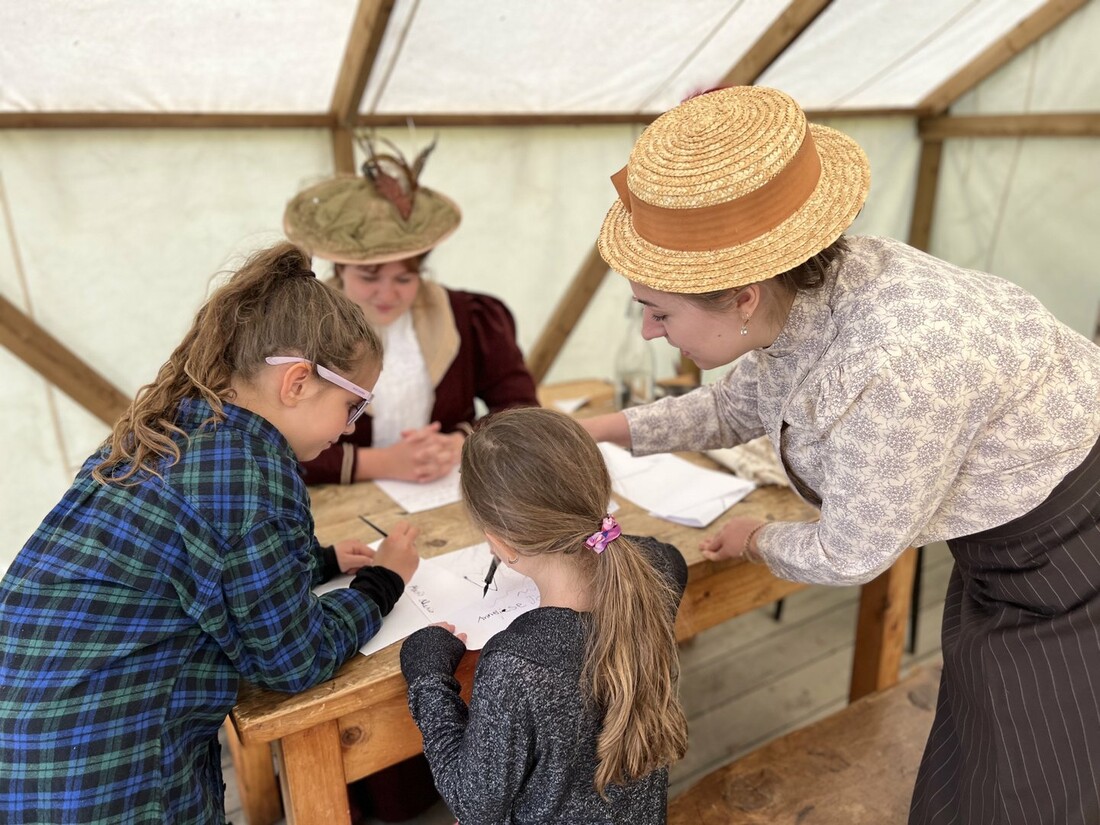 Beat the Heat at Fort Edmonton Park
For those planning on coming down to Fort Edmonton Park this summer, please pay attention to the weather. Don't forget to check your weather app before your arrival to best prepare for the weather ahead. With the temperatures rising, here are some hot weather tips to help you beat the heat.
1️. Hydrate, hydrate, hydrate! Drink plenty of water throughout the day to stay hydrated. Stop by one of our food & beverage outlets to purchase a cool drink, or bring your own water bottle. You can find refill stations at the Front Entrance, the Indigenous Peoples Experience, Masonic Hall or ask the bartender at Mahogany Bar!
2️. Dress for the heat. Opt for lightweight and breathable clothing to keep cool. Don't forget your sunglasses and a hat for extra sun protection.
3️. Seek shade. If you're out and about, look for shady spots to take breaks and escape the sun's direct rays. See the map here for bathrooms, picnic areas, and more. Printed maps are available at Admissions.
4. Use sunscreen. Protect your skin by applying sunscreen with a high SPF. Remember to reapply every few hours, especially if you are sweating.
5. Beat the heat indoors. Take advantage of air-conditioned spaces on-site, such as the Front Entry Gift Shop/Café/Admissions, Hotel Selkirk, Indigenous Peoples Experience, Masonic Hall, Jasper House (open for seating and washrooms - main floor only), Capitol Theatre, Exhibits & Cabinet of Curious.
6. Take care of each other. If you notice another guest is in heat distress, please check in with them and/or notify our staff. We are happy to help and ensure everyone has a safe visit.
Remember, it's essential to take care of yourself and each other during hot weather. If you need assistance, do not hesitate to reach out to staff. Stay cool, stay safe, and enjoy all the fantastic things #FortEdmontonPark has to offer, even in the summer heat!
Smoke Weather Alert
Throughout the summer Edmonton may experience smoke and poor air quality due to nearby wildfires. Here are some tips to help you stay safe and minimize the effects of the smoky conditions:
1️. Stay informed: Keep an eye on local news and official weather sources for updates on the air quality index and any health advisories related to the smoke. Fort Edmonton Park will announce any important updates or closures on our website homepage and social media.
2. Limit outdoor activities: If possible, reduce your time spent outdoors, especially during periods of heavy smoke. Indoor spaces with air conditioning or air purifiers are ideal.
3. Use masks when necessary: If you need to go outside, consider using an N95 or P100 mask, which can help filter out fine particles. Ensure that the mask fits properly and is worn consistently.
4. Stay hydrated: Drink plenty of water to stay hydrated, as smoke can cause throat and nasal irritation.
5. Seek help if needed: If you experience severe symptoms such as difficulty breathing, chest pain, or dizziness, seek medical attention immediately.
Stay informed, take necessary precautions, and prioritize your health and well-being this summer.
Your historic summer awaits! Tickets are available online or at the gate.