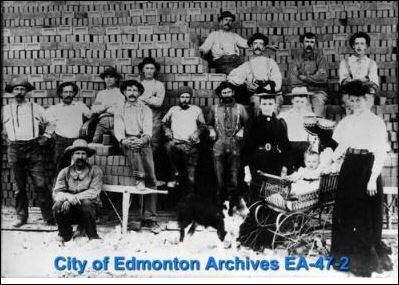 The JB Brickyard
Bricklaying is one of the oldest industries in Alberta, dating as far back as 1882. JB Little started brick laying in 1893 during the economic and building boom that was occurring in Alberta. The company was called Little & Maloney. Despite the fact that there were other brickyards and two directly adjoining Little & Maloney, they found great success. Little eventually purchased the two adjoining brickyards and took over sole ownership. He renamed the operation J.B Little's Brickyard.
J.B used a soft-mud process to make bricks. Clay was dug from pits and placed in a machine. Water was then added from the water tower. Initially, Horsepower was used to run the equipment. Horses were hitched to long poles to supply the power for gradually grinding the clay. When the mixture reached an ideal consistency, it was placed in molds and taken to drying racks. The drying process took 7 to 10 days. Finally, the bricks were burned in a fire-burning kiln and cooled. As better equipment became available, Little eventually made the transition to steam-powered equipment and the use of an electric motor.
J.B Little's Brick Yard was located in an area originally named the Fraser Flats. The exhibit at the Park, which is a portrayal of the operation circa 1920s, opened in 1985 and can be found on the Riverdale Flats.