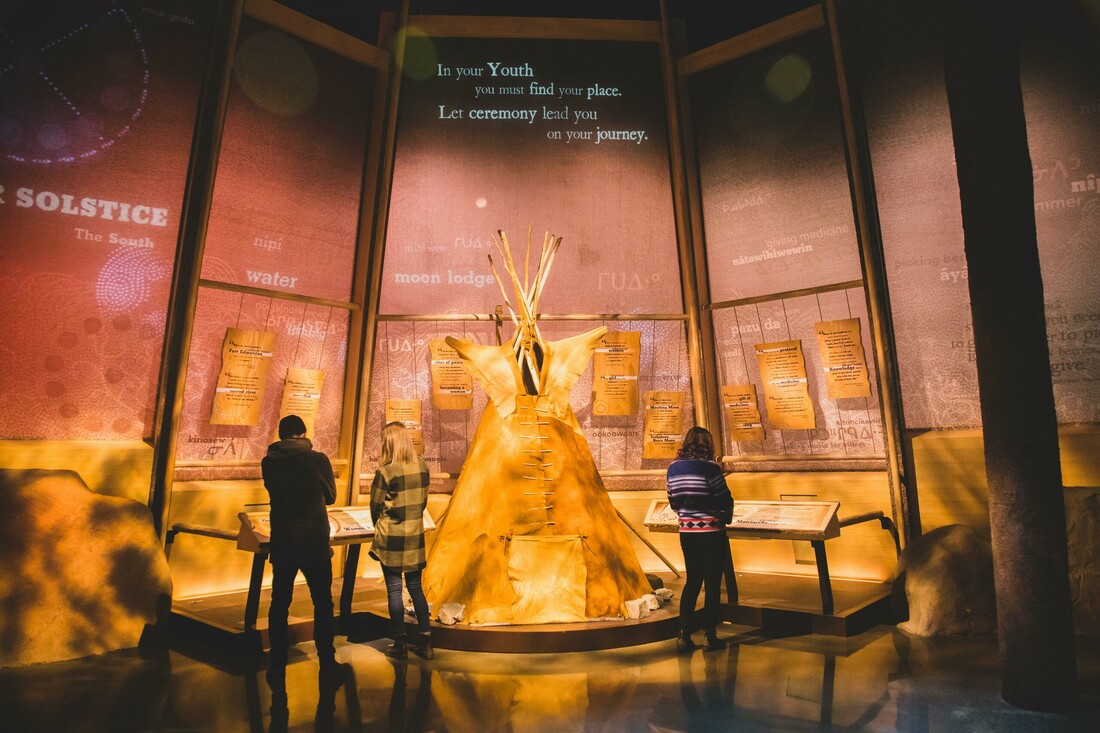 The Importance of Acknowledging Land and Treaty
Fort Edmonton Park acknowledges our place in amiskwaciy-wâskahikan (Edmonton), which is located in Treaty 6 territory and the homeland of the Métis Nation, Region 4. Edmonton is also now home to the highest population of Inuit south of the 60th parallel. We recognize the Fort's significance as a major point on the trading routes for many First Nations and Métis Peoples. These peoples include, but are not limited to, the nehiyawak (Cree), Nakota Sioux, Métis, Blackfoot, Dene, Ojibway/Saulteaux/Anishinaabe, and Kanien'kehá: ka (Mohawk) who have traversed these lands and called it home for centuries. Fort Edmonton Park acknowledges the importance of the surrounding Treaty 7 and 8 communities whose people have also lived and traveled across these lands. We recognize our responsibility to acknowledge the history of the traditional territory we call home as an essential step towards reconciliation.
Land acknowledgements have become a popular form of reconciliation across North America. In Canada, land acknowledgements were inspired by the 94 recommended calls to action contained in the Truth and Reconciliation Commission (TRC) and is an honest and historically accurate way to recognize and respect the traditional First Nations, Métis and/or Inuit territories of a place and Indigenous Peoples relation to the land. By acknowledging the existence of Indigenous Peoples as the original occupants of the land, we create opportunities for awareness and reconciliation - now and for the future. Not only are land acknowledgements a teaching tool, they should be accompanied by action from those who share them. Creating concrete actions in collaboration and partnership with First Nations, Métis and Inuit is crucial for your words to hold meaning beyond your event, meeting or conference.
Edmonton is located in the heart of Treaty 6 territory. Treaty 6 spans across what is now known as central Alberta and Saskatchewan. Its signing took place on August 23, 1876 at Fort Carlton and on September 9, 1876, at Fort Pitt. Treaty 6 was signed with several members of Cree, Saulteaux, Nakota and Dene Nations. Treaties are a series of pacts and agreements negotiated and made between two or more sovereign nations. These agreements represent the relationship between First Nations People and the Crown and were originally created to assure that both parties can work towards common goals for their people and the future. Treaties are not static, they evolve and will continue to evolve for "...as long as the sun shines, the rivers flow, and the grass grows." There are several different treaties across Canada, the most prominent are treaties 1 to 11. 
We understand that land acknowledgements are presented in many different ways and can be communicated through diverse Indigenous voices, customs and cultures. We can respectfully honour land acknowledgments by:
seeking knowledge about the traditional territory you are on. 
approaching Indigenous communities to learn more about them and create meaningful relationships.
learning and using knowledge respectfully. 
learning and using the proper words and pronunciation of the Indigenous languages.
understanding the relation between the initial occupants of the land and settlers.  

At Fort Edmonton Park we intend to learn and share factual information, use traditional Indigenous languages, and acquire the proper permissions required to share traditional stories and information. We remain committed to raising awareness and promoting the recognition of Indigenous Peoples kinship of the land we occupy, while continuously working in partnership with the Confederacy of Treaty No. Six First Nations and the Métis Nation of Alberta.
What is Treaty? Why is it important? 
Many thanks to the Confederacy of Treaty Six First Nations for this video.