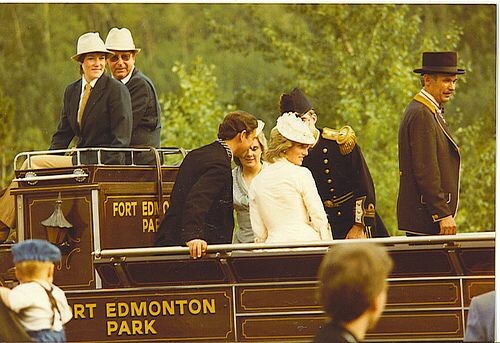 A Royal Visit
Visitors to Fort Edmonton Park's train station may have seen our photo display of visiting Royals, but some may not know of the Princess Diana Tree.
Prince Charles and Princess Diana at the Fort Edmonton Park's Klondike Evening during their 1983 tour. Photo: © John Shelley Collection/Avalon/Getty Images
 Fort Edmonton Park's commemorative tree was planted with compost made from flowers left by Canadians in 1997 at Toronto's Princess of Wales Theatre in tribute to the late Diana, Princess of Wales. The Western White Pine, located along a walkway leading from the public parking lot to the train station, was planted on the occasion of National Composting Awareness Week in May 1998. It continues to be a living tribute to the "people's princess" and to her ties with Edmonton.
Thirty years ago (June 29, 1983), Fort Edmonton Park was graced with a Royal visit by Princess Diana and Prince Charles. The popular couple were hosted to a Klondike-style gala barbecue and both royals were dressed in 1880s period ensembles which became the hit of the Canada Royal Tour.
The Klondike-style cream-coloured silk dress and hat is one of Diana's most published ensembles, with her wearing it in articles or photos appearing in more than 100 international publications.
During your next visit to Fort Edmonton Park, see how many other photos of royal personages with connections to Edmonton, Alberta, and Canada you can find in schools and government buildings!