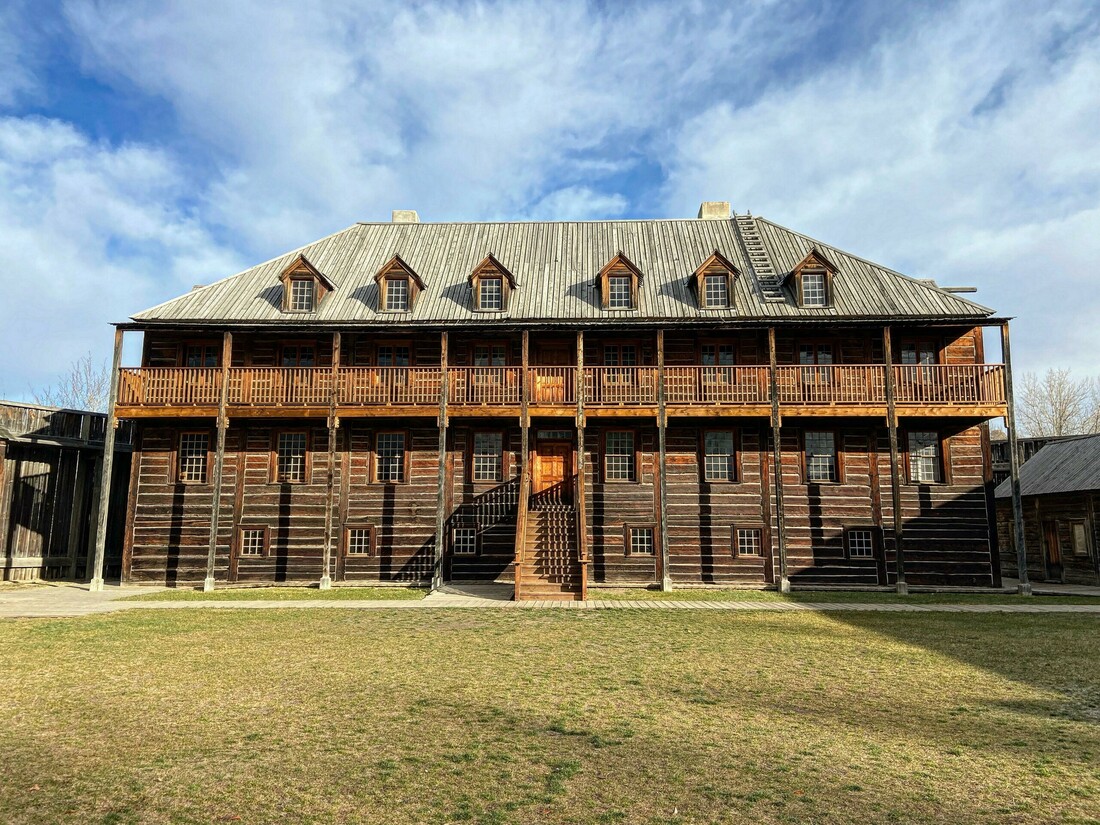 Joseph Lewis and the Fur Trade
In celebration of Black History Month, Fort Edmonton Park recognizes Black Albertans who have made remarkable contributions to our culture and community.
Picture a fur trader in your mind. Maybe they're paddling a mighty York Boat down the North Saskatchewan River. Or perhaps they're bundled up in furs, snowshoeing through a bitterly cold forest. 
What you likely won't immediately picture is that they might be Black. The Black History of Edmonton and Alberta is an important narrative, one that Fort Edmonton Park is committed to exploring and portraying more purposefully with Black History Interpreters. This rich history extended over 200 years when a man named Joseph Lewis was considered to be one of the first Black people involved in the fur trade.  
While the fur trade is an integral part of Canadian history, Black participants have often been ignored, overlooked or, in many cases, forgotten. While there is evidence that Black people participated in the fur trade, very few are known by name. Glasgow Crawford worked for the Hudson's Bay Company, as well as the legendary Pierre Bongo.  Pierre was rumoured to have been a mighty fur trader, able to lift up to five 90-pound fur bales at once, though there is no written account of this.
The same can be said for Joseph Lewis (or Louis, or even Lewes): very little is known about his early life, and even the spelling of his last name comes under question. The details of his beginnings in the fur trade are also scarce. However, we know that he travelled north from the United States and likely entered employment with the North West Company based out of Montreal. 
We do know that in 1796, he entered into a three-year contract with the Hudson's Bay Company. From that contract, Lewis worked at multiple trading posts, such as Jack River House, Bolsover House and Greenwich House. In 1810, he participated in an expedition over the Rocky Mountains to the west of the Columbia River. The expedition was the first of its kind for the HBC.  While expensive (the total cost for the goods and wages was nearly £600), the payoff was huge! When the expedition returned to Fort Edmonton in 1811, the furs they brought back were valued near £1,500 - close to $200,000 CAD today!
Like many fur traders, Lewis was married to a First Nations woman whose name and history went unrecorded. Joseph and his wife had three children together, and by 1814 he had retired from working with the HBC to do freelance work on the Prairies. By 1820, he was killed by a Blackfoot man before he reached the age of 50 and unfortunately, no details of the encounter survive. His children would settle in the Red River area and eventually marry into Manitoba's Métis community.
Due to holes in our historical record, we cannot be certain that Lewis was the first Black person to come to Alberta and Saskatchewan. But he was most definitely amongst the first to do so. Historical figures like Lewis are important not only because of the narrative they help shape but also because they help challenge 'traditional' thoughts and ideas of what our history is. Many people have a tendency to view the fur trade in a eurocentric light. They acknowledge that there were Indigenous participants, but everyone else involved was white. Joseph Lewis and others such as Glasgow Crawford, Pierre Bongo and undoubtedly nameless others beg to differ.
Resources