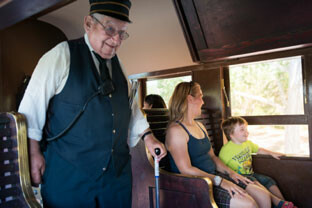 History Well Told
We remember Bill Tront well, and you probably do too. Bill was Head Conductor on the Railway from May 1992 until his retirement on Sept. 26, 2015. He passed away at the age of 84 after a lifetime of dedication, caring for people and his position with the railway.
Chief Engineer Brooke Edwards remembers Bill as a kind and considerate gentleman whose drawings from children given to him adorned his wall. It was not uncommon to see Bill with a group of children at the Fort Station platform. He could usually be heard telling them to beware of the wild squirrels who were looking to steal their lunches! Always quick to smile and patiently answer countless questions from guests, Bill always exuded exemplary customer service.
Staff at the park remember Mr. Tront as a teacher as well. He spent many hours using his life experience on the railway to develop operational procedures at Fort Edmonton Park. He created schedules, supervised the Conductor team, and offered invaluable advice on the inspections and repair options for the antique railway equipment.
As the years went on, Mr. Tront's fellow conductors included many young people as well as retired railway staff. It was Bill who mentored both young and old on the duties and responsibilities of their respective positions. Bill had kind words and gentle encouragement that helped his teams achieve outstanding safety records as well as create magical moments on the train.
Brooke relates that Bill's railway career started on CN in the northern regions of Ontario towards Hudson's Bay. Bill told many memories to our guests of this vast and isolated territory and the hardships it brought to running a railway there. Those hardships helped develop a man of great patience and experience, which Bill used throughout his personal life and professional careers on both CN and the EY&P Railway at Fort Edmonton Park.
We'll remember Bill Tront every time the train's whistle sings. We hope you'll do the same. And if you have any memories of Mr. Tront, we welcome you to share them with us.