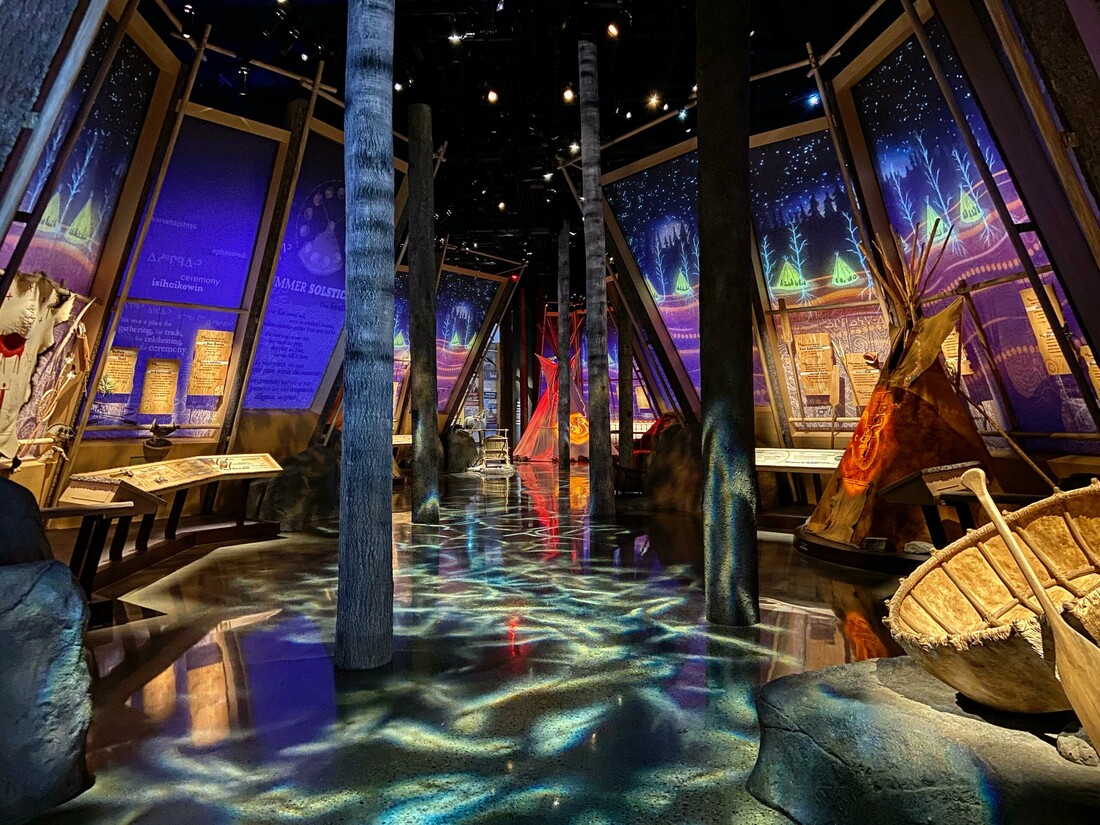 Discover the Indigenous Peoples Experience this Fall
This fall, Fort Edmonton Park invites you to gather and explore life through the diversity of First Nations and Métis peoples at the Indigenous Peoples Experience. The award-winning exhibit is now open Saturdays and Sundays from 12 pm - 4 pm until December 18, 2022. 
Admission to the Edmonton Christmas Market is included! 
How to Experience the Indigenous Peoples Experience:
Before you arrive, book your tickets online. Tickets are not available at the gate.
Visitors enter through The Front Entry Plaza.
Don't forget to stop by the I.A.M Collective booth. The Indigenous arts collective includes more than seventy First Nations, Metis and Inuit artists who promote authenticity over appropriation by providing a place for market goers to purchase authentic, local Indigenous art.
When you are finished, please return down the Service Road and exit through the Guard House gate.
Important Notes:
Please note, the train and streetcars are not running. 
Visitors do need to walk through the Park to the Indigenous Peoples Experience. Please note this takes approximately 15 minutes. Please wear appropriate footwear. 
Parking is in our main parking lot at the front of the Park.  
Summer Passes are not valid for this off-season experience. However, each ticket holder for the Indigenous Peoples Experience Admission will receive one free general admission ticket of equal or lesser value for the 2023 summer season.

Public transport is available to get to Fort Edmonton Park. You can use the Edmonton Transit System On Demand service from the South Campus/Fort Edmonton Park LRT station or from another location in the city.

On Demand service is available to Fort Edmonton Park 7-days a week:

Saturday: 9 am-7 pm
Sundays and holidays: 10 am-6 pm

More information is available here:https://www.edmonton.ca/projects_plans/transit/bus-network-redesign-first-km-last-km-study.aspx
Although the Park is closed for the season, we want to ensure the community can access this incredibly important and meaningful experience. 
Deep conversations with over fifty Indigenous Elders, historians, educators, and community members informed the content shared in the exhibit. The stories and artwork come directly from Indigenous perspectives gathered through engagement with over forty local Indigenous nations, historical documents, and research. Music was written and composed by local, award-winning, Indigenous musicians and performers through an artist residency. Local Indigenous interpreters greet guests and impart their own personal stories and history, adding unique depth to the experience. This shared knowledge does not just exist in the past, it is here today.
We listen and learn together.