The Perfect Place for Your Special Day
Fort Edmonton Park is a special place filled with living history, which makes it the perfect place for families and friends to write their history together. We offer historic churches for indoor wedding ceremonies and the Memorial Garden for outdoor ceremonies. We also have over ten beautiful venues to suit any private event or wedding reception. In addition, the park is filled with unique settings perfect for pictures and making memories that will last a lifetime.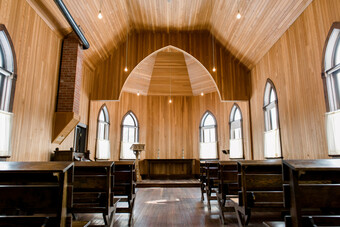 Church of St. Michael & All Angels 
Capacity: 75 seated or 95 standing
This quaint white and grey trimmed Anglican church features an elegant hardwood interior. Warm light is cast from soft electric lights and streams of natural light pour in through the windows. This 1910 structure is heated and available year-round.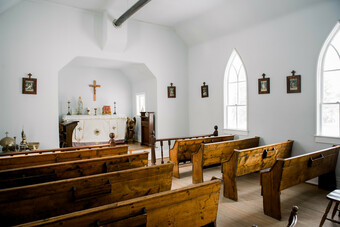 St. Anthony's Catholic Church
Capacity: 40 seated or 60 standing
Richly decorated with antiques, this wooden church is lovely any time of the year. Just imagine holding your service by natural daylight or golden candlelight. This quaint church is centrally located and surrounded by a white picket fence. This venue is available for bookings year-round. 
Historic Churches & Memorial Garden
Make your wedding at Fort Edmonton Park unique and memorable by reserving one of our historic churches or the picturesque Memorial Garden.
Please note, these spaces are only available as an add-on to receptions booked at Fort Edmonton Park.